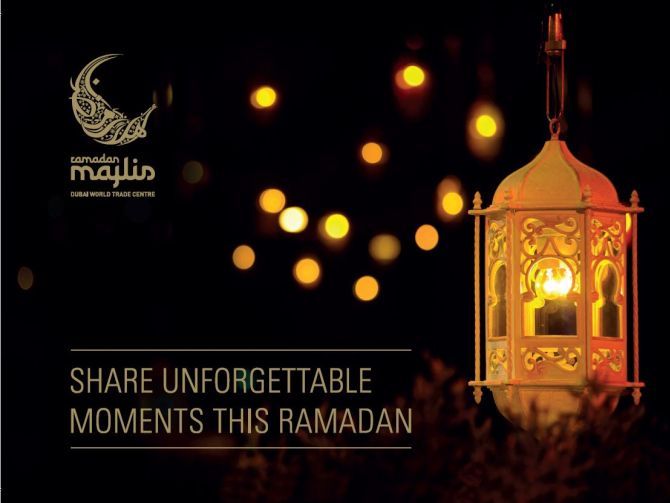 The Majlis at Dubai World Trade Centre | Events in Dubai
Located at the Dubai World Trade Centre, The Majlis is an annual event that takes place during the month of Ramadan. Take part in the daily Iftaar and Suhoor by enjoying some exquisite fine dining by world class chefs from DWTC.
The Iftaar will be served at 7pm to 8pm daily and will be followed by Suhoor, which is a la carte, from 9pm until 3am in the morning, with the weekends going until 4am.
The Majlis at Dubai World Trade Centre | Events in Dubai Details
Where is the location of The Majlis?
Dubai World Trade Centre
What is the date and duration of the event?
Friday, 19th – Friday, 17th July 2015 (28 days)
What is the timing of the event?
8:30 PM – 3:00 AM
How to get admission for the event?
AED 140 per person
How to contact them for more information?
+ 971 4 308 6322
Email: EventHospitalityHelpdesk@dwtc.com
Information Courtesy: http://www.dubaicalendar.ae/en/event/events/the-majlis-at-dubai-world-trade-centre.html
Website: http://www.majlis.ae/page.cfm/NewSection=Yes/GoSection=0
---
DubaiTravelator.com for your Travel Assistance
DubaiTravelator.com have listed travel agents who offer various travel packages, Dubai visa specialist to apply for Dubai visa, visa and immigration procedures in Dubai, hotels in Dubai and special deals, things to do in Dubai, places to visit in Dubai, how to plan a five day tour to Dubai etc for your travel assistance.
We have many more categories listed for you .Please click here to check other categories in DubaiTravelator.com
Get more stuff like this
Subscribe to our mailing list and get interesting stuff and updates to your email inbox when we start newsletter service.
Thank you for subscribing.
Something went wrong.