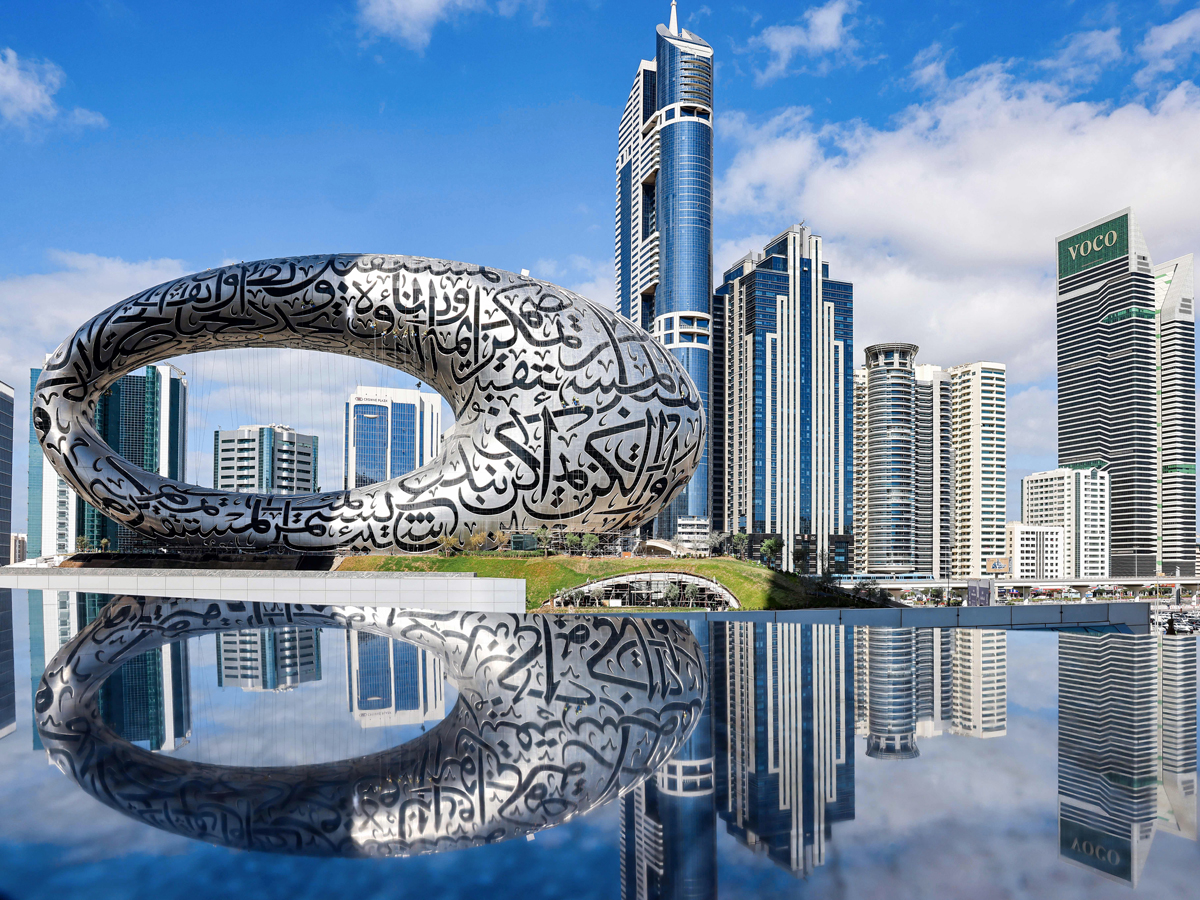 Museum of the Future Dubai – The Museum of the Future welcomes people of all ages to see, touch, and shape our shared future. Go on a journey through possible futures and bring hope and knowledge back to the present.
Sheikh Mohammed, Sheikh Hamdan and Sheikh Maktoum open the 'most beautiful building on earth'
Dubai's skyline officially welcomed its latest iconic landmark on the unforgettable night of 22.02.2022.
Dubbed as the "most beautiful building on earth", the Museum of the Future was illuminated with stunning futuristic light projections on Tuesday, marking its historic opening to the world.
His Highness Sheikh Mohammed bin Rashid Al Maktoum, the Vice-President and Prime Minister of UAE and Ruler of Dubai, along with Sheikh Hamdan bin Mohammed bin Rashid Al Maktoum, Crown Prince of Dubai, and Sheikh Maktoum bin Mohammed bin Rashid Al Maktoum, Deputy Ruler of Dubai, Deputy Prime Minister and Minister of Finance, inaugurated the iconic landmark during a grand ceremony that saw the Museum's exterior facade transform into a work of art.
During the opening ceremony, Sheikh Mohammed bin Rashid said, "The Museum of the Future is a message of hope, a global scientific platform, and an integrated institutional framework to shape a better future for all of us."
He added, "It embodies the active human imagination and the Emirati will that continues to excel the world. The Museum will be a forum for great minds, scientists, thinkers and experts from around the world."
"The Most Beautiful Building On Earth"
Sheikh Hamdan noted that "The Museum of the Future will be an intellectual laboratory for cities of the future and governments of the future.. it will play a key role in strengthening Dubai's future position. The Museum will provide a clear roadmap for Dubai's vital sectors."
Commenting on the opening of the landmark, Mohammed Abdullah Al Gergawi, Chairman of the Museum of the Future, highlighted the resemblance between the philosophy of Sheikh Mohammed and the Museum of the Future.
He said, "In its continuously evolving and renewed concept, the Museum of the Future reflects the resilient and agile vision of His Highness Sheikh Mohammed bin Rashid in responding to changes of the future."
Standing at 77 meters and spread over an area of 30,000 square meters, the sparkling torus-shaped seven-storey pillarless marvel sits atop a hill on the arterial Sheikh Zayed Road.
It presents a stunning spectacle to onlookers, marking the arrival of a long-awaited landmark that was nine years in the making.
In parallel to the spectacular opening show, guests were taken through the story of Dubai Ruler as he led the evolution of the emirate from humble beginnings to key milestones, including the Hope probe's arrival to Mars' orbit during the same month last year.
The hollow space in the middle of the glazed calligraphy-wrapped structure that captured onlookers signified the unwritten future into which humanity as a whole can look towards.
The Museum of the Future is the latest addition to Dubai's bold architectural endeavours while signalling the UAE's journey towards a bright future.
Beyond presenting a complex engineering miracle to the world, the Museum's interior promises to bring the future at the grip of visitors through an outstanding technology-empowered journey.
Museum of the Future Dubai Tickets Details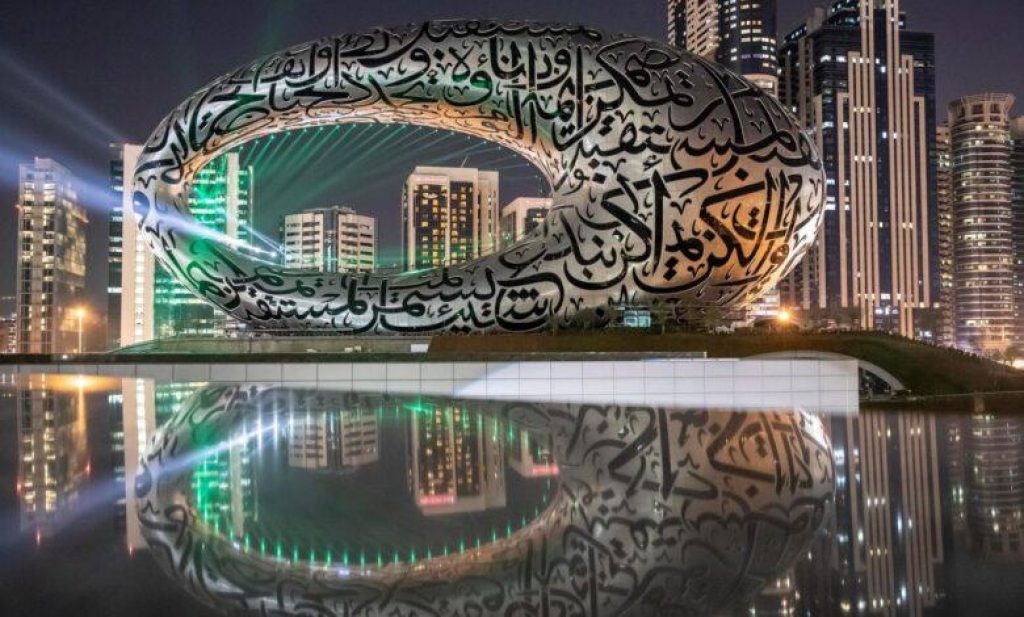 What are the ticket prices to visit the Museum of the Future?
Entry Ticket (3 years old and above)
AED 145.000
Child Entry Ticket (under 3 years old)
Free
Person of Determination Entry Ticket
Free
All visitors, including those eligible for free admission, must book a time slot to enter the museum. Tickets provide full access to the museum experience and amenities.
Will I need to book a ticket in advance or can I purchase a ticket when I arrive?
Museum of the Future tickets are allocated to specific time slots. To avoid disappointment, we strongly recommend our guests book in advance here. Tickets may be purchased onsite at our self service kiosks or from the ticketing desk in our lobby area, but please be aware that during peak times, tickets may not be available for preferred time slots or immediate entry.
When is the Museum of Future officially open?
February 22, 2022.
What are the timings of Museum of Future?
Every day 10:00 AM to 6:00 PM
The museum is open daily from 23rd February 2022. Last entry one hour before closure.
The Museum is open from 10 am to 6 pm all week long.
Does advance bookings before visiting Museum of Future is required?
Bookings should be made before the preferred visiting time as each ticket holder will be allocated a specific timeslot during the Museum's opening hours.
How to buy tickets / booking to visit the Museum of the Future?
https://museumofthefuture.ae/en/book
Why are tickets time specific for Museum of Future?
For the best possible experience, our exhibitions are designed to be enjoyed in a specific sequence over a set time period. This requires us to manage entry times for all guests.
Which payment methods do they accept for Museum of Future?
They accept all major international credit and debit cards, Apple Pay and Google Pay. All transactions will be made in the local currency (UAE Dirham). Any payments using international cards will be converted at the current exchange rate.
How will I receive my Museum of the Future ticket?
All ticket purchases will be sent via email. If you have not received your tickets, please ensure you check your junk or spam filters. If still not received, please contact our customer service team here.
Can I change the date or cancel my ticket after the purchase is completed?
You can make a single change to the date of your booking up to 24 hours before the ticket date. Ticket purchases are non-refundable.
If I miss my ticket entry time, will I still be allowed to enter the exhibitions?
If you miss your ticket entry time, they will work to accommodate you in the next available time slot. During peak hours availability may be limited. Please try and arrive early in all cases to avoid disappointment or inconvenience.
If there is a mistake with my booking, what can I do?
If there is a mistake with your booking, please contact their customer service team here.
Can I make a group booking for Museum of Future?
You can book for up to 20 people online here. If you need to book for a larger group, please contact their sales team here.
Is re-entry permitted at Museum of Future?
You may enter the public areas of the museum at any time during opening hours. Ticketed exhibition re-entry is permitted only on the day the ticket is valid and is limited to certain exhibition floors. You must keep your issued wristband on at all times – removal of the wristband will prevent re-entry. Please speak with one of our representatives during your visit for the most up to date re-entry options.
What is written on the Museum of Future?
You will find Arabic calligraphy engraved on the exterior, including quotes related the future from the Prime Minister of the UAE, Sheikh Mohammed bin Rashid Al Maktoum.
Where is the Location of Museum of Future?
Address:
Museum of the Future
Sheikh Zayed Road
P.O. Box 66610
Dubai
United Arab Emirates.
How to contact them for more information?
Contact Details
Tel: 800 2071
[8am-8pm | 7 days a week]
Email:
General Enquiries: info@museumofthefuture.ae
Events: events@museumofthefuture.ae
Website: https://museumofthefuture.ae/
https://www.museumofthefuture.ae/en/contact-us
---
DubaiTravelator.com for your Travel Assistance
DubaiTravelator.com have listed travel agents who offer various travel packages, Dubai visa specialist to apply for Dubai visa, visa and immigration procedures in Dubai, hotels in Dubai and special deals, things to do in Dubai, places to visit in Dubai, how to plan a five day tour to Dubai etc for your travel assistance.
We have many more categories listed for you .Please click here to check other categories in DubaiTravelator.com.
Get more stuff like this
Subscribe to our mailing list and get interesting stuff and updates to your email inbox when we start newsletter service.
Thank you for subscribing.
Something went wrong.