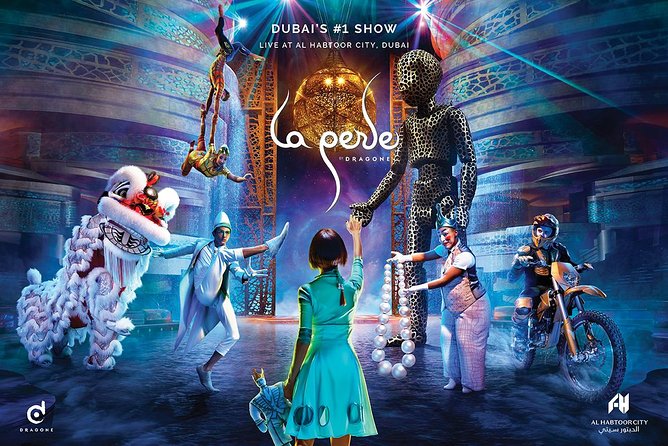 La Perle by Dragone Live Show – 2021 Event in Dubai, UAE
La Perle by Dragone – For a truly unique theatre experience, book tickets to La Perle – the region's first permanent show that combines breathtaking choreography with daring stunts, in a novel 'aqua theatre'.
Created by the legendary artistic director Franco Dragone, the story of La Perle pays homage to the UAE's pearl diving history in spectacular style thanks to the purpose-built theatre, where gushing waterfalls and torrents of rain flood the stage and then drain away within seconds. Dragone is the mastermind behind The House of Dancing Water in Macau and Le Reve in Las Vegas, and this multi-sensory spectacle is unlike any other. This extravagant production combines immersive performances with striking imagery and advanced technology to create an unrivalled experience.
You'll be on the edge of your seat as world-class artists perform remarkable feats, including aerial acrobatics, death-defying dives and unbelievable motorcycle tricks – this show never fails to impress.
La Perle By Dragone Details:
Where is the venue of La Perle By Dragone?
La Perle, Al Habtoor City
260 Sheikh Zayed Rd, Al Habtoor City
Dubai
United Arab Emirates
What is the date and duration of La Perle By Dragone?
16 May – 31 Jul, 2021
What are the timings of La Perle By Dragone?
Tuesday to Friday: 6.30 PM – 8 PM
Saturday: 4 PM – 11 PM
What are the ticket rates?
AED 119
Click here to Book Tickets
How to contact them for more information?
Contact No: +971 4 437 0001
Email: boxoffice@laperle.com
---
DubaiTravelator.com for your Travel Assistance
DubaiTravelator.com have listed travel agents who offer various travel packages, Dubai visa specialist to apply for Dubai visa, visa and immigration procedures in Dubai, hotels in Dubai and special deals, things to do in Dubai, places to visit in Dubai, how to plan a five day tour to Dubai etc for your travel assistance.
We have many more categories listed for you .Please click here to check other categories in DubaiTravelator.com.
Get more stuff like this
Subscribe to our mailing list and get interesting stuff and updates to your email inbox when we start newsletter service.
Thank you for subscribing.
Something went wrong.