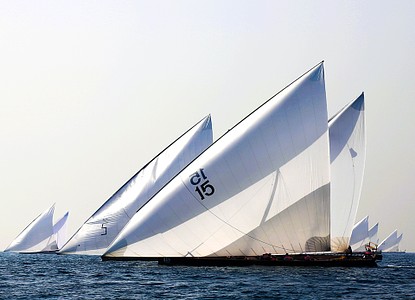 Al Gaffal Long Distance Race – 2021 Event in Dubai, UAE
Al Gaffal Long Distance Race – There's a reason the Al Gaffal Long Distance Race celebrates its 30th anniversary this June – it's hugely popular and is an integral part of the traditional watersports scene. See skilled boatsmen travel aboard majestic 60ft dhows from Sir Bu Na'air, an island located 65km off the coast of Abu Dhabi, all the way to Dubai. A staple of the city's calendar, it pays homage to the UAE's maritime and pearl-diving history with exclusively Emirati competitors carrying on their ancestor's heritage.
A truly captivating sight, this not event to be missed, proving to be the perfect sign off to Dubai International Marine Club's (DIMC) season for 2020/2021.
Al Gaffal Long Distance Race Details:
Where is the venue of Al Gaffal Long Distance Race?
From Sir Bu Na'air To Dubai
Ocean Active
Jumeirah Fishing Harbour 1, Jumeirah – Dubai
What is the date and duration of Al Gaffal Long Distance Race?
THU, 3 JUNE 2021
How to register for Al Gaffal Long Distance Race?
Seafarers' registration is open now until Tuesday at 10 pm via the link below :
http://gaff30.uk.tempcloudsite.com/gaffal30/login.php
Please see the video below for how to register 👇👇
https://youtu.be/tn3N8Dd3eFI
Note: **Please upload ID photos & other attachments with a size of no more than 3 MB **
How to contact them for more information?
Contact No: +971 50 459 2259
Email: info@dimc.ae
---
DubaiTravelator.com for your Travel Assistance
DubaiTravelator.com have listed travel agents who offer various travel packages, Dubai visa specialist to apply for Dubai visa, visa and immigration procedures in Dubai, hotels in Dubai and special deals, things to do in Dubai, places to visit in Dubai, how to plan a five day tour to Dubai etc for your travel assistance.
We have many more categories listed for you .Please click here to check other categories in DubaiTravelator.com.
Get more stuff like this
Subscribe to our mailing list and get interesting stuff and updates to your email inbox when we start newsletter service.
Thank you for subscribing.
Something went wrong.