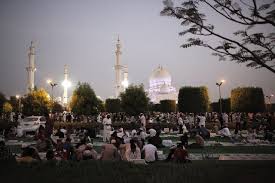 When is Ramadan 2019 in Dubai
Ramadan 2019 in the United Arab Emirates will begin in the evening of Sunday, May 5 and ends in the evening of Tuesday, June 4.
What is Ramadan and what is the importance of Ramadan?
Ramadan is the month of fasting and prayer throughout all Islam followers, including the United Arab Emirates. It begins with moon sighting on the 9th month of the Islamic calendar. The month of Ramadan lasts for 29 or 30 days maximum.
The importance of Ramadan fasting is that Muslims do not eat, drink or smoke from early morning prayers (Subahi) till evening prayers (Maghrib). Other than these there are many other humanitarian deeds which are associated with the holy month of Ramadan which is followed by Muslims across the world.
What are the specialities in Ramadan in Dubai 2019?
The time of breaking the fast is done right after the evening call to prayer and is referred to as "Iftar. Since people are fasting all day they eat late-night meals during Ramadan.
The speciality of Ramadan in UAE is that Non-Muslims also participate in Iftar,
There are many big street tents near mosques where free food is given out to the needy without considering the religion or nationality.
Work days are usually reduced by at least two hours for all during Ramadan as per government decisions
These are some important things to be avoided during Ramadan
Eating and drinking in public between sunrise and sunset
Drinking alcohol at a bar in Dubai, there are exceptions
There are many restaurants which have home/room delivery service. only dine-in during day time will be restricted.
Now as a traveller if you have a doubt that "Is is ok to go to Dubai in Ramadan?"
The answer is "YES". You can enjoy many of the Ramadan events happening across the country and enjoy offers in all hotels.
However, please note that since this years Ramadan falls during the summer and drinking water will be forbidden in public it is not recommended to go to beaches or parks during the day time as baking in highs of 40 degrees is not safe when you can't drink water.
While you have a big opportunity of enjoying the luxurious hotel spa and pools during Ramadan with good discounts and offers.
Check out some budget-friendly hotels in Sharjah
Book budget friendly UAE Hotels online
https://www.kayak.ae/Sharjah-Hotels-Ramada-Hotel-Suites-Sharjah.426571.ksp
https://www.tajawal.ae/en/ramada-hotel-suites-sharjah-sharjah-hotel-id-4077860
https://www.booking.com/hotel/ae/ramada-sharjah-apartments.html
Check out some budget-friendly hotels in Umm Al Quawain
Visiting Dubai during ramadan 2019 – Things to do & tips to remember
Ramadan 2019 Suhoor timings
Ramadan 2019 Iftar timings
Ramadan 2019 Prayer timings
When is Eid Al Fitr 2019 Dubai?
Eid in Dubai 2019
---
DubaiTravelator.com for your Travel Assistance
DubaiTravelator.com have listed travel agents who offer various travel packages, Dubai visa specialist to apply for Dubai visa, visa and immigration procedures in Dubai, hotels in Dubai and special deals, things to do in Dubai, places to visit in Dubai, how to plan a five day tour to Dubai etc for your travel assistance.
We have many more categories listed for you . Please click here to check other categories in DubaiTravelator.com.
Get more stuff like this
Subscribe to our mailing list and get interesting stuff and updates to your email inbox when we start newsletter service.
Thank you for subscribing.
Something went wrong.