The Yard Dubai and Love bridge in Dubai
The Yard Dubai and Love Bridge are one of the recommended places to visit in Dubai. It's free entry.
Things to do in the Yard Dubai include Love lock bridge, rustic courtyard, lake, walking trails, picnic area, restaurants, shops, food trucks etc.
The design of The Yard is inspired by the surrounding neighborhoods, known as Dubai's agricultural heartland. The architecture, interiors, and landscaping create a laid-back ambiance for families from the local community and beyond to enjoy. Apart from that there is a lake with two bridges spanning it, shaded walking trails and expansive landscaped picnic areas.
Love Lock Bridge Dubai Location Map: https://goo.gl/maps/xs2iWwXXyeK2
Love Bridge in Dubai
Love Bridges are popular over the world, particularly in Copenhagen & Paris. Furthermore, now, Dubai has its own love Bridge, yet its called the Promise Bridge in Al Khawaneej, where people can make symbolic pledges to their loved ones by attaching padlocks.
You can hang your own love lock on the bridge! 😉
Stepping stones lead visitors from the main courtyard to the lake and picnic areas, where they can follow a wholesome breakfast, lunch or dinner with a casual stroll or brisk walk around the 550-meter walkway.
Location of Love bridge & The Yard Dubai
Behind Last Exit D89, Al Khawaneej St – Dubai
What is the opening hours of The Yard Dubai?
24 hours open
Entry fee for The Yard Dubai
It is absolutely FREE
How to reach The Yard Dubai?
Love lock Bridge Dubai Location Map: https://goo.gl/maps/xs2iWwXXyeK2
Contact
Phone number – 00971 – 4 – 317 3999
Website: http://www.meraas.com/news/the-yard/
Facebook: https://www.facebook.com/MeraasDubai/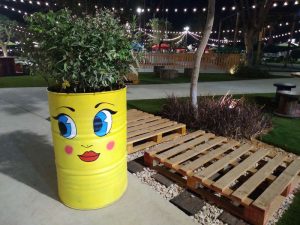 ---
DubaiTravelator.com for your Travel Assistance
DubaiTravelator.com have listed travel agents who offer various travel packages, Dubai visa specialist to apply for Dubai visa, visa and immigration procedures in Dubai, hotels in Dubai and special deals, things to do in Dubai, places to visit in Dubai, how to plan a five day tour to Dubai etc for your travel assistance.
We have many more categories listed for you .Please click here to check other categories in DubaiTravelator.com.
Get more stuff like this
Subscribe to our mailing list and get interesting stuff and updates to your email inbox when we start newsletter service.
Thank you for subscribing.
Something went wrong.