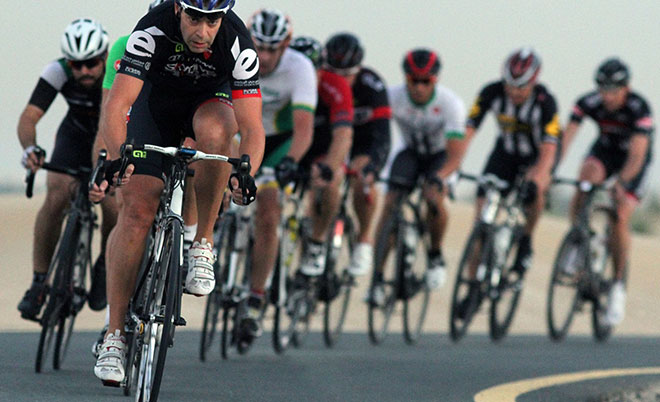 Spinneys Dubai 92 Cycle Challenge and Build-up Rides – Events in Dubai, UAE
Gear up for the start of the cycle season and Dubai's favourite bicycle ride- the Spinneys Dubai 92 Cycle Challenge. This is a great way to enjoy a day in the sunshine while you burn calories alongside family and friends. Two challenges are available: 53km and the full 92km route. For riders wishing to complete the full route, please note a minimum average speed of 26km/hour must be maintained.
All finishers will receive medals for their participation. To maintain the festive atmosphere, the cycle village will offer sponsors' activities, gourmet breakfast options from Spinneys, and kiddies activities for children.
Four practice build-up rides are planned in the months preceding the race:
8 September at the Mohammed Bin Rashid Al Maktoum City.
The day before the race, 14 December, the Spinneys Dubai 92 Junior Rides will return, offering 6-15 year olds the chance to compete in 2.5km, 15km and 30km rides.
The Spinneys Dubai 92 Cycle Challenge Details:
What is the Date and Starting Time of Spinneys Dubai 92 Cycle Challenge?
08 September – 15 December 2017
Where is the venue of Spinneys Dubai 92 Cycle Challenge?
Dubai Autodrome – Motor City
Click here for location Map
How to Join the Event?
Online Registration
What is the Ticket Rate of the Event?
AED 300
How to Contact them for more Information?
Tel: +971 043210008
Email: info@cyclechallenge.ae
Website: http://cyclechallenge.ae/
Information Courtesy: https://www.visitdubai.com/en/events/spinneys-cycle-challenge
---
DubaiTravelator.com for your Travel Assistance
DubaiTravelator.com have listed travel agents who offer various travel packages, Dubai visa specialist to apply for Dubai visa, visa and immigration procedures in Dubai, hotels in Dubai and special deals, things to do in Dubai, places to visit in Dubai, how to plan a five day tour to Dubai etc for your travel assistance.
We have many more categories listed for you .Please click here to check other categories in DubaiTravelator.com
Get more stuff like this
Subscribe to our mailing list and get interesting stuff and updates to your email inbox when we start newsletter service.
Thank you for subscribing.
Something went wrong.