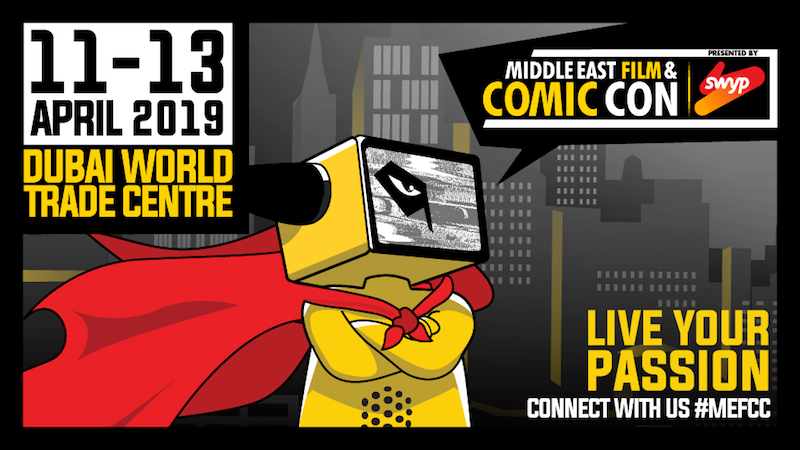 Middle East Film & Comic Con 2019 (MEFCC)
Middle East Film & Comic Con 2019 (MEFCC) is the Middle East's largest annual pop culture celebration.
The pop culture activities include:
Cosplay your favorite characters
Meet your favorite movie and TV stars
Attend workshops conducted by international artists and experts
Attend exclusive previews of unreleased films
Participate in gaming tournaments
Enjoy live shows of a variety of performances
Where is the event Middle East Film & Comic Con 2019 (MEFCC) held?
The event location is Dubai World Trade Centre
What is the event date for Middle East Film & Comic Con 2019 (MEFCC)?
11th Apr to 13th Apr 2019. 3 Days
What are the timings of Middle East Film & Comic Con 2019 (MEFCC)?
11th April, Thursday: 2 PM – 10 PM
12th April, Friday: 12 PM – 10 PM
13th April, Saturday: 11 AM – 9 PM
What is the ticket price of the event?
How to contact the organizers of Middle East Film & Comic Con 2019 (MEFCC)?
MICHAEL LAMPRECHT
Phone: +971 (0) 4 407 2438
Email: Michael.Lamprecht@informa.com
AYMAN AKAILY
MARKETING EXECUTIVE
Phone: +971 (0) 4 407 2526
Email: Ayman.Akaily@informa.com
LIAM MURPHY
Email: liam.murphy@informa.com
NATALIE GURNEY
SENIOR MARKETING MANAGER
Email: marketing@mefcc.com
Social Media Channels
Share on Social media with hashtag #MEFCC
Click and read more at the official website of Middle East Film & Comic Con 2019 (MEFCC)
How to reach the  Dubai World Trade Center Hall hassle-free and easily?
1. Taking the metro is the best option to avoid traffic congestion and arrive at DWTC. 
Note: Metro tickets can be purchased from Mobile NOL card selling Kiosk placed next to Al Wasl Visitor Services Reception.
METRO OPERATIONS HOURS
Sunday – Wednesday 5:50 am – 00:00 am
Thursday 5:50am – 01:00am
Friday 1:00pm – 01:00am
2. By Bus
You can use the NOL card on the bus. To check the route map visit the RTA website or call 800 90 90.
3. By Taxi
There are 2 taxi drop-offs points such as opposite the Ibis Hotel and in front of Zabeel Hall entrance. Taxi pick-up point is located opposite the Ibis Hotel. The RTA taxis are metered at the same rate. For a small surcharge, there are 'pink' ladies-only cabs also available.
4. Come with own Vehicle and parking facility
Multi-Storey Car Park (Levels 3 to 6) located next to Novotel.
Sheikh Rashid Tower car park located next to Trade Centre Arena and Halls 1 & 2.
Happiness parking opposite Convention Gate
Payment for DWTC parking: 
Parking fee of AED 10 per hour. 24/7 operation.
Machines are available at the exit cashier on the fourth floor of the multi-storey car park.
The waiting period between payment and departure is 15 minutes only.
Lost parking tokens are charged at AED 150.
10 REASONS WHY 2019 IS THE YEAR OF THE GEEK
• Walking Dead's Ross Marquand is the first to be announced to attend Middle East Film & Comic
Con (MEFCC)
• Middle East Film & Comic Con (MEFCC) releases tickets for 8th edition
• Round up of top 10 dates for your diary in the year ahead
31 January 2019: Wizards, warlocks, elves, dragons, mermen, genies, goblins, time-lords and
superheroes! If you love films, gaming and binge-watching Netflix – whatever your passion, 2019 is the year of geek.
To kick off, Dubai's Middle East Film & Comic Con (MEFCC) have announced Ross Marquand (also known as Aaron from The Walking Dead) as the first celebrity for the April event. Visitors will be able to meet with Ross across all three days of the show, as well as get up close and personal by watching him live inthe MEFCC Theatre where he'll be taking part in celebrity panels and Q&A's.
Watch out for weekly MEFCC announcements of show content until the event takes place on 11-13 April 2019.
2019: THE YEAR OF THE GEEK
It's a year of endings as Phase 3 of the MCU (Marvel Cinematic Universe) draws to a close with Avengers: Endgame, expected to be the highest grossing film of all time. GoT (Game of Thrones) will finally be over as season 8 comes to an end (yes there are some characters still living) and Star Wars Episode 9 will end the world-famous triple trilogy after its beginnings 42 years ago.
It's also a year to celebrate all things retro with the MCU's debut of Captain Marvel (set in the 90's),
Nintendo Gameboy turns 30, Disney are re-igniting our screens with classics and it's the last year for teenagers born in the 90's. Rubix Cube are even taking it old school with their first appearance at MEFCC.
TOP 10 DATES FOR YOUR DIARY IN 2019:
1) Marvelous Movies
Magic Marvel continues to reign supreme with four highly anticipated films to hit cinemas this
year. Captain Marvel release date March 8, 2019. Avengers: Endgame release date April 26,
2019. X-Men: Dark Phoenix June 7, 2019. Spider-Man: Far from Home release date July 5, 2019.
2) Throne Finale
Probably the most watched TV Series ever, Game of Thrones is finally drawing to a close with
Season 8 debuting on April 14, 2019. Known for its vigorous killing-off of main characters, you
have approximately 69 days to watch or re-watch seasons 1-7 so you don't get FOMO when
everyone's chatting about the shockers in this season.
3) Your passions IRL. It can only be MEFCC
The most extraordinary event in Dubai's calendar gives you access to celebs up close, exclusive
cinema content, shopping galore and a whole host of fun things to see and do. A great weekend
for everyone from hardcore geeks to families. Find fellow fans and enjoy a 3-day celebration of
all things pop culture #MEFCC April 11-13, 2019.
4) Get Your Comic On
It might be where your favourite TV shows and movies came from, but have you ever picked up
an actual comic? If not now is the time because the Comic industry isn't slowing down, with a
whole host of touted titles set for release in 2019. Click for more.
5) DC are Aqua-manning Up
It's an ongoing battle between MCU (Marvel Cinematic Universe) fans and DCEU (DC Extended
Universe) fans. Following the world-wide smash hit of Aquaman in December, DC are upping
their game where they do best. While there is only one DCEU film coming in 2019 [Shazam: April
5, 2019] there are far more projects in the works than you might think. Animated movies like
Reign of the Supermen, or returning favourites like Young Justice: Outsiders, there's something
for every DC fan in the near future.
6) Punching High
A year of classic series for Anime fans. For anyone thinking about getting into the animated
genre – now's time to get started and catch up on these classics. One Punch Man, Season 2: April
2019, Attack on Titans: Season 3 continues April 2019, My Hero Academia Season 4, October
2019.
7) Powering Up
Arise Gamers! There's a whole host of awesome games hitting your console/PC this year.
Kingdom Hearts fans will already be thumbs down [Kingdom Hearts 3: Jan 29, 2019], hot releases
include Metro Exodus February 15, 2019, Jump Force February 15, 2019, Anthem February 22,
2019 and Devil May Cry 5 (DmC) March 8, 2019.
8) Game On
Welcoming gamers far and wide to step out of the shadows, Middle East Games Con (www.me-
gamescon.com returns for its third edition – establishing itself as a must-attend for anyone that
enjoys playing all games, form console or PC to Table Top and VR. Expect to test-drive the very
latest tech, apps, unreleased games and meet YouTube stars and professional e-sports players.
Save the date October 24-26, 2019.
9) Star Wars Fans We Are
In 1977 Star Wars was born, child of George Lucas and famed for starting at Episode 4 and
instantly creating a worldwide fan following. The 9-part triple-trilogy follows the Skywalker fam
and their offspring getting to grips with The Force. The time has finally come, after 42 years
Episode 9 will hit screens worldwide on December 19, 2019. Worry not super-fans, we're
confident Disney will continue with spin-offs and mini-series after the final part of the trilogy
ends.
10) Disney Global Domination
Take a second to remember that the MCU and Star Wars are Disney, then add to it a HUGE list of
Disney classics being released this year and you'll realise that Disney really is making a run for
global domination. Don't miss nostalgic faves: 'Dumbo': March 29, 2019, 'Aladdin': May 24,
2019, 'Toy Story 4': June 20, 2019, 'The Lion King': July 19, 2019, 'Frozen 2': November 27, 2019.
[All dates correct at time of publishing]
Middle East Film & Comic Con returns on 11-13 April 2019 at Dubai World Trade Centre. Tickets are now on sale at Platinumlist.net, Virgin Megastores online and all Virgin Megastores.
Make savings by purchasing before 21st February 2019.
For full info www.mefcc.comFor press information & images: press@mefcc.com
A limited number of VIP tickets are now on sale – book early to guarantee access.
About Middle East Film & Comic Con:
Middle East Film and Comic Con takes place on 11-13 April 2019 at Dubai World Trade Centre. Returning for its 8th edition and hosting over 45,000 enthusiasts, the event has grown to become the region's largest popular culture festival. Offering a mix of international and regional entertainment and brands from Film, TV, Sci-Fi, Anime, Manga, Gaming, Comics and Collectables – it's the ultimate destination for a fun and action-packed day out. Fans can meet celebrities, buy exclusive merchandise, watch film previews and screenings, take part in creative workshops, compete in gaming tournaments and more!
About Informa:
Informa PLC is a leading, international business to business information services Group, operating in over30 countries. We create transaction-led exhibitions and content-based events, specialist data, intelligence and marketing services products, as well as scholarly research and specialist reference-led academic content. Our products and services help businesses and professionals connect, learn, do business and gain an edge over the competition. Informa is listed on the London Stock Exchange and is a member of the FTSE 100.
Get more stuff like this
Subscribe to our mailing list and get interesting stuff and updates to your email inbox when we start newsletter service.
Thank you for subscribing.
Something went wrong.