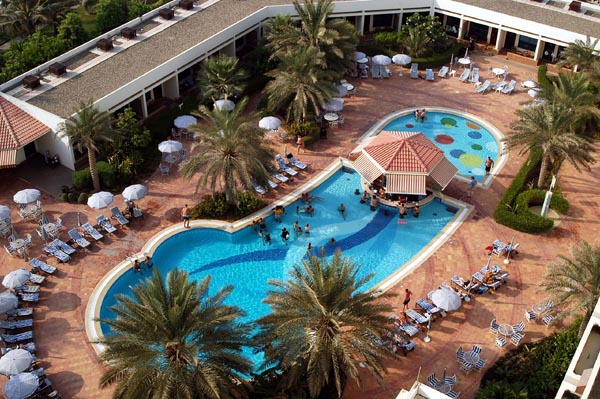 Kempinski is a luxury hotel located on the end of Ajman corniche, Ajman is one of the seven emirates of UAE. It is one of the oldest hotel opened its doors to public in the year 1998 and even after 18 years they still are one of the most visited hotel in UAE because of their high standards and service they provide. Kempinski Hotel Ajman features 180 elegant sea view rooms and offers wide choices of international fine dining restaurants and bars. It has modern fitness gym with a health club and aerobic studio. A range of sports facilities such as bowling, water sports and diving is also available on site. Kempinski Ayurveda Spa and fitness center offer unique pampering and holistic treatments. Enough of hotel information, now back to us 😉
Stay in Kempinski hotel was a surprise for me, my other half booked a hotel room in this place and on the day of my birthday when i woke up in morning our bags were packed and already kept in the car.. me being unaware of it. So when i woke up she said get ready we have to go somewhere and our journey started. She drove the car and it stopped in front of the hotel and i was like why here and thought maybe we here for lunch but to my surprise the car trunk was open and luggage were coming out and she said yes we were staying here and i was like wowwwww :p
So we went inside and i saw a lady walking towards us and i was like do i know her why she walking towards me haha she stopped right in front of us and welcomed me with my name and wished me birthday and i was like how she knows my name hihi that was awesome we never stood in the check in area she took us to her seat i think she was a relationship manager or something and explained what our room includes and told us about the restaurants, bars and everything that they have to offer, once done she personally escorted us to our room thumbs up for the V.I.P protocol.. i just loved it and thanks to my babe for organising all this :p
Our room was a leisure club room with sea view. The room size was spacious and bright as we enter there was a beautiful chocolate cake with happy birthday written on it and a welcoming note and on bed they made cute beautiful swans with towels as i approached our private balcony and saw outside the view was breathtaking.. overlooking the palm gardens, pool, the beach and Persian Gulf. So one thing, we religiously do whenever we stay in hotels or resorts is to take a tour of our room and i think everyone does it lol 🙂
The room had all what we needed for our enjoyable stay: a king size bed, comfy couch and a flat-screen TV with english channels also :p and in bathroom they have their own bathroom amenities, an abundance of teas/coffee and complimentary bottled water and slippers, a private balcony and of course WiFi was free. Only one thing that disappointed us was that the furniture is quite outdated. We quickly settled down changed and went down to the pool area as you know from my previous blog's no matter what, i have to go to pool even thou i am not good at swimming :p The pool was magnificent with the right temperature the best part was it has a small bar made inside the pool area where you can relax while sitting on the small like tools submerged in the pool and enjoy great variety of chilled beverages.. how awesome is that.
After spending sometime in the pool we headed to beach did some photo shoots of each other and once tired head back to room after reaching room we rested for sometime and she said change we have to go somewhere and i said now where.. well no answer, so we changed and headed down to K lounge and what it is, well it's a lobby lounge that comes with this room package where you can get free items 😉 yes you read it right free to drink and eat that includes alcoholic beverages from 5:00 pm to 7:00 pm and snacks and that was superb we really enjoyed our time here as we didnt had lunch.. so we munched and drank fresh juices and cold drinks whatever we asked we were served by this chinese lady as she was managing this lounge. She served everyone personally and really impressed us.. thumbs up!! It even had a balcony where we sat and drank and took few pictures.
As night fall, we were served dinner in our room and it was setup in balcony with candle and all it was just beautiful dining under the dark sky and bright shining stars, felt soo good. The food was excellent everything tasted so good until the last bite. After having a hearty meal, we went down to play bowling they have a decent size bowling place that was also included in our package great, we played one game and i lost :p
The morning buffet breakfast is one thing we usually never miss or let me put this way.. we try not to miss 😉 and this time we didn't miss. The buffet breakfast was amazing, they had vast variety of everything hold and cold for a perfect breakfast and a chef makes eggs to order as you like sunny side, half, full and all types 😉
We literally enjoyed our stay in this luxurious hotel and gained quite a few pounds too hihi.. Everything is well maintained, it's clean and the staff's are friendly and professional and the service they provide is outstanding from housekeeping to reception to servers.
IN SUMMARY | What you need to know….
Room – Spacious (Leisure club room)
Room Number – 518
View – Sea View
Bed – King size
Bathroom – Modern
Bath Amenities – Kempinski own shampoo, conditioner and natural soaps
Breakfast– Buffet breakfast
Room Service/ Staff– Best (welcoming and friendly)
WiFi – Free
Location – End of Ajman corniche
Price Tag – Reasonable
Contact Number – +971 6 714 5555
Email Address: reservation.ajman@kempinski.com
GPS coordinates – Latitude 25.423032  |  Longitude 55.442333
WebSite – http://www.kempinski.com/en/ajman/hotel-ajman/welcome/  
Youtube – https://youtu.be/XiGRzdFAs3I
Get more stuff like this
Subscribe to our mailing list and get interesting stuff and updates to your email inbox when we start newsletter service.
Thank you for subscribing.
Something went wrong.