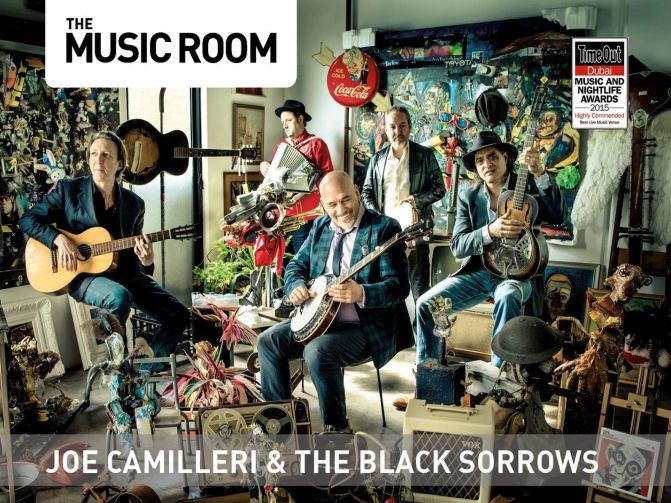 Joe Camilleri & The Black Sorrows Live in Dubai, UAE
Hailing from the state of Melbourne, Australia, Joe Camilleri and The Black Sorrows are a band that dips its toes in blues, roots, RnB, country, jazz and even Gospel music. Joe, a musical legend in his own right and indicted into the ARIA Hall of Fame in 2007, is a performer who must be witnesses live to truly appreciate his musical genius. The Black Sorrows only amplify the artist's talents to amazing levels.
Joe Camilleri & The Black Sorrows Live in Dubai, UAE Details
Where is the location of Joe Camilleri & The Black Sorrows Live in Dubai?
The Music Room – Majestic Hotel – Bur Dubai
What is the date and duration of the event?
Friday, 7th August 2015 (1 day)
What is the timing of the event?
9:30 PM
What are the ticket details?
AED 120
Click on Platinum List for ticket details.
How to contact them for more information?
+ 971 4 359 8888
Information Courtesy: http://www.dubaicalendar.ae/en/event/events/joe-camilleri-the-black-sorrows-live-in-dubai.html
http://dubai.platinumlist.net/tickets/26341/Joe-Camilleri–The-Black-Sorrows-Live
Facebook: https://www.facebook.com/events/888859891177755/
---
DubaiTravelator.com for your Travel Assistance
DubaiTravelator.com have listed travel agents who offer various travel packages, Dubai visa specialist to apply for Dubai visa, visa and immigration procedures in Dubai, hotels in Dubai and special deals, things to do in Dubai, places to visit in Dubai, how to plan a five day tour to Dubai etc for your travel assistance.
We have many more categories listed for you .Please click here to check other categories in DubaiTravelator.com.
Get more stuff like this
Subscribe to our mailing list and get interesting stuff and updates to your email inbox when we start newsletter service.
Thank you for subscribing.
Something went wrong.