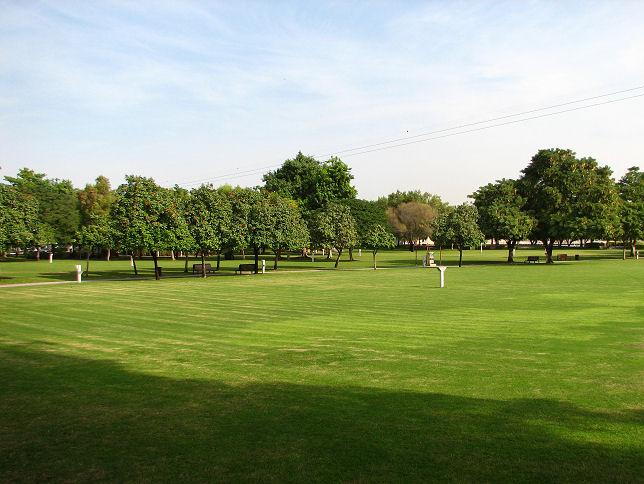 Dubai Creek Park | Places to Visit in Dubai
Dubai Creek Park is in the heart of the old city on the shores of Dubai Creek. It is one of the oldest parks in Dubai and is still as popular today as it was then. Families fill the park at the weekends and the evenings. The park has the benefit of being in the cool breeze from the creek and also has loads of plants and greenery along with mazes and a nature trail. There are also barbeque areas and childrens' play areas dotted throughout the park as well as the Children City Centre and Dubai Dolphinarium.
You can ride the cable car, ride the miniature train, rent bikes and visit the small but adequate café – you can also bring your own food for a picnic or a barbeque. There is a paved walk all along the shore of the creek which is great for roller skating as is a large stone ampitheatre area.
There is a nominal entry fee that has to be paid to enter the park and you have to pay this even if you have tickets to Dubai Dolphinarium or are planning to go Children's City- but it's a small price to pay to spend time in this amazing park with great views over Dubai Creek and the old Dubai skyline.
Instructions
Please keep the park clean and use the litterbins provided
No barbeque is allowed on grass areas please use the designated area
Playing football is allowed only at the designated area
Pet animals, motorcycles and cycles are not allowed inside the park
Misuse of any electricity supply or connection is not allowed
Please do not damage trees and plants
The facilities are not allowed to be used for any activities other than what is designated for
Children are the responsibility of the adults
Visitors shall be responsibility for all expenses caused by vandalism or misuse
Administration not responsible for theft or any personal accidents
Smoking Shisha is strictly prohibited inside the park
Marketing or sales is not allowed in the park without permission
Please dress appropriately in accordance with local customs
Facilities
(Teleferic) which is manifested by the hanged cabins rolling on heavy-duty steel cables which attracts great number of visitors for enjoying the magnificent scenes of Dubai through the teleferic hanged moving cabins. The visitors start their teleferic journey from the teleferic station located near the main restaurant in the Park for making a tour from Al-Garhood Bridge till Al-Maktoum Bridge where the journey ends in the same station. (The fees for adults AED 25 and AED 10 for children. For booking the entire cabin which accommodates 7 persons the fee shall be AED 140.
Sea excursion services.
Services of renting bicycles that are available in two types (The bicycles belonging to the Municipality which fee is AED 20 for small bicycle and AED 30 for the ordinary bicycle per one hour); and the (Bicycles belonging to an investor which fees differ according to the bicycle type).
Places for performing prayer.
Aflaj Village.
Facilities for people with special needs: (The Park provides a lot of the facilities and services for people with special needs, and that this Park was designed specially for providing service to this category of the community after taking into consideration that all services, installations and utilities are providing them with special facilities. Besides, special parking lots were allocated for people with special needs close to the parks entry gates, and for facilitating their smooth movement on passages. In addition, special toilettes were designed for the people with special needs as well.
Creek Park Working hours
· Sunday/Monday/Tuesday & Wednesday, from 08:00 a.m. to 10:00 p.m.
· Thursday/Friday/Saturday and official holidays, from 08:00 a.m. to 11:00 p.m.
Entry Fees
· AED 5 per person.
· Entry is free of charge for people with special needs.
Address
Creek Park
UAE – Dubai
Hussain AlSaffar
Contact information
Tel: 043367633
Mobile: 0508565101 / 050-8589892
Dubai Creek Park Website: www.dm.gov.ae
Get more stuff like this
Subscribe to our mailing list and get interesting stuff and updates to your email inbox when we start newsletter service.
Thank you for subscribing.
Something went wrong.