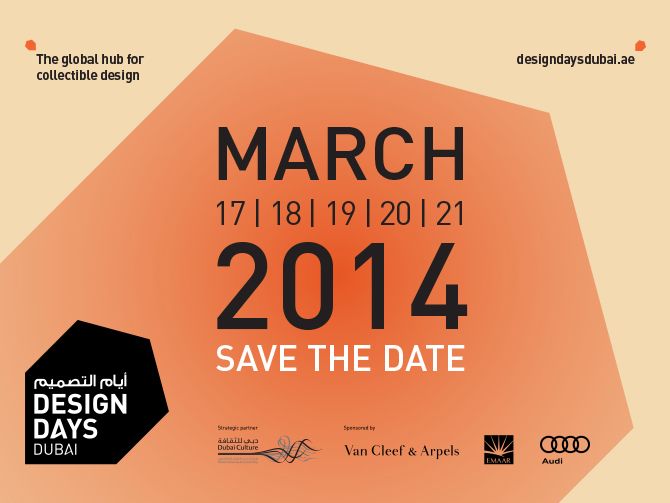 Design Days Dubai 2014
Design Days Dubai 2014 is the leading fair in the Middle East and South Asia dedicated to collectible and limited edition furniture and design objects. The fair presents design from leading international designers and galleries alongside up and coming design from across the world. The fair also presents a strong non-commercial programme consisting of education, workshops, installations and live performances.
Design Days Dubai 2014  is owned and managed by Art Dubai Fair LLC, a joint venture company between the DIFC and Middle East Fairs Ltd.
Art Dubai Fair LLC's other products include:
Art Dubai
Downtown Design
Art Week
The Global Art Forum
DXB Store
Campus Art Dubai
The third edition of Design Days Dubai 2014  takes place from 17 to 21 March 2014.
Come and view some of the best limited edition and collectible designs in the region, presented by leading galleries. Design Days Dubai 2014  is the first design fair in the Middle East and South Asia and it also offers a series of public talks and workshops.
Design Days Dubai 2014 Event Details
Date: Monday, 17th – Friday, 21st March 2014
Duration: 5 days
Audience: Art Lovers, General Public
Category: Arts / Culture, Business
Venue: Downtown Dubai Near the Burj Khalifa
Admission: AED 50. Children, students under 18, university/college groups have free admission
Telephone: + 971 50 456 5393
Website: http://www.designdaysdubai.ae/
Get more stuff like this
Subscribe to our mailing list and get interesting stuff and updates to your email inbox when we start newsletter service.
Thank you for subscribing.
Something went wrong.