Atlantis, The Palm Hotel Dubai – Review
Atlantis, The palm is a U.A.E hotel located on the out-skirt of Palm Jumeirah. It opened its door to public in year 2008 and we were only able to admire it from inside last year when we booked our Palm Beach Deluxe room. We usually travel all over U.A.E as and when we get a chance and this time we planned and managed to pull it off.
So we will share our experience staying in this much hyped 5* hotel. To begin with, we packed our bags and drove to our destination that took us around 45 mins from Sharjah. And Oh! boy as we enter, passing the first security barrier you are blown away by the architecture and the size of the hotel.
Until here all seems to be so dream like as you reach near the main entrance you are welcomed in a long que for valet service, after waiting for 20 mins our turn came we got down of the car, valet card was given to us and our luggage was taken in.. where that we dont know mmm :-\
This was just the beginning of our pain staking journey to our room, as soon we enter inside our jaw dropped to see the long ques for checking in and it was horrible. I took the courage and stood in one of the many lines for check in and standing for almost 1 and half hour, can you guys believe one and half hour it took us to reach at front of the check in desk, by this time i was completely drained out from my legs haha!! The thing was people were checking in with family's or groups that lead to thia long delay and also i put in their suggestion box to have separate counters for groups at least.
We managed to check in @ around 1:30 PM and the lady at the reception said please come back after an hour to get our keys as the room was not ready we said well fine as the normal check in time is @ 3 only. So we sat for an hour in a coffee shop and went back again in the reception area again stunned to see long ques, i saw some one in suit with Atlantis badge on it i stopped and asked him do i have to stand again just to get my room keys and he saw my eye brow going up he said no sir you can go to check out reception and get the room keys from there too.
So when i went to the check out counter and said they asked me to come after an hour and its 2:30PM already again i got the same answer to wait room not ready that pissed me off i said i need exact time she dialed here there don't know who she spoke too and said another 20 mins i said fine means only by 3 you guys will give me room so me and her said fine lets stroll around the hotel and kill the time. Below are the lobby pictures and once you go out the lobby there is beautiful stairs that take you to the pool area so we had time in our hands went to Lost Chambers as well as it was complimentary with our stay. Not a place worth spending money and going inside and seeing different kind of species ya if its complimentary entry.. do visit 😉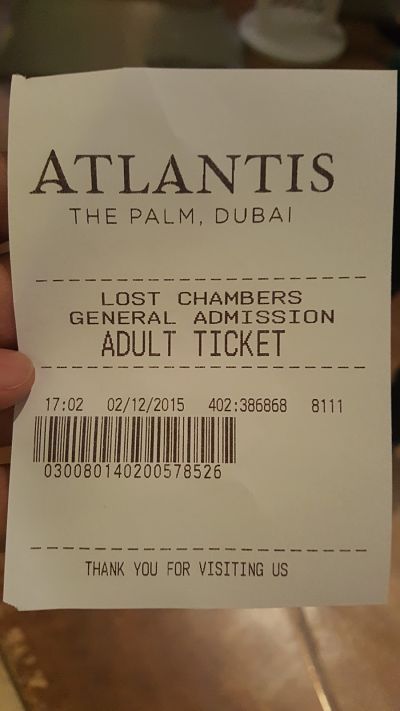 So now the time was 3:15 PM and we rushed to the reception area again same check out desk and gave the reference number as this time we were pretty sure we will get the room as it was above the normal check in time but she said no you have to wait more and this time for some strange reason she told in a very rude manner and that was it my meter went shooting up and gave her nice and straight the way she spoke to me and asked for the manager, he came i told this has happened and this lady is showing us attitude and telling we have to wait another half hour, he calmed me down and said sir let me check it for you and guys you wont blv the manager came back to me in 5 mins with our room key that again was a shock the check in staff just told me i have to wait half an hour how come you brought me the key in 5 mins.. ridiculous !!
Well that was nothing haha we went room and now we are waiting for luggage that took another half hour, atlast we settled down after a hectic long day haha.. Some experience it was!!
Our room on the other hand was very nice and the view from the balcony was stunning that made us think all this hassle was well paid off. We had pool view the scenery was fantastic with Burj Al Arab on the sight and the sandy beach.
Our room facilitated of:
45 – 47 square metres
King size bed
Mini Bar (that we never used we had our own stuff 😉 )
Cable / Satellite TV
24 hour room service
Sliding door that opens up to the bathroom (cool)
And guess what WIFI was not free it was only available free to you when you book directly from the hotel site.. i think we paid 100 DHS for 24 hours of WIFI connection.. ridiculous!
At night the hotel looked more appealing hihi
We managed to get a glimpse of fire works from the balcony as it was U.A.E national day 😉
We ordered pasta with pink sauce and must it was delicious, the food was really good !
One of the best thing of the hotel we liked was the pool, it was huge and clean and was not deep perfect pool for beginners and mature swimmers.. thumbs up!
The next day we made a short trip in a buggy to Atlantis water park, you can take the buggy in front of the beach area and it takes you to the water park.. quick note please carry your room keys as when the buggy drops there's a security check where they put a stamp and give a tag to wear on your wrist if you don't have room key they make an issue and also don't bring
along anything with you otherwise you have to buy a locker first to keep your things and the lockers inside the changing rooms are quite far too from the rides and bring some cash that you can put in the wrist straps and then redeem to buy food or drink and at the end if there is any money left you can get it back too (thats the good part) 😉
Try to be there early as there are long ques for the rides, we almost tried all the rides except the Poseidon's revenge, that was one crazy ride 🙂 not for weak hearted hahaha :p
And yes water park was also complimentary in our package 🙂 Usually i think its for all the rooms so whenever you guys book do ask for complimentary pass to Lost Chamber and Aquaventure water park.
Overall our experience at the hotel was wonderful, except few glitches here and there. Hope you guys liked the review of our stay in Atlantis hotel Dubai. Do leave a comment 😉
Dubai, United Arab Emirates
Get more stuff like this
Subscribe to our mailing list and get interesting stuff and updates to your email inbox when we start newsletter service.
Thank you for subscribing.
Something went wrong.