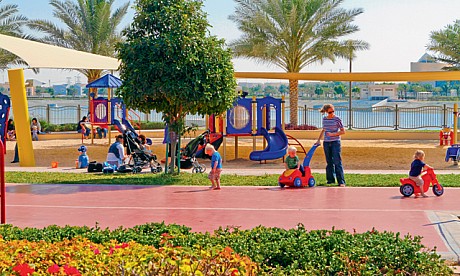 Al Barsha Pond Park – Barsha Park
Small park with pond in Dubai UAE
Al Barsha Pond Park, or Barsha Park – as it's commonly referred to, is approximately 50 acres in size with planted greens surrounding a large man-made lake. It is situated conveniently in the heart of Al Barsha's residential community. The park boasts a 2.5 km padded jogging track and a parallel cycling track, basketball courts, tennis courts, a mini football pitch, a beach volleyball court and of course 3 separate but nearby shaded children's play areas. The park offers well-manicured lawns and clusters of palm trees with park benches dotting its tracks around the perimeter. Bathroom facilities are located at the main entrance gate.
Barsha Park found a true following due to its quiet location and its modern facilities. Early morning joggers can be spotted circling its tracks on any given day. Also, children and families enjoy this retreat because of the generous sandy play areas and the ability to lay down a picnic basket without rubbing shoulders with neighbouring park goers while watching the kids play safely nearby. Plenty of parking coupled with ease of access make this one a favourite among community dwellers and avid athletes.
Facilities: Jogging track, bicycle hire, jumping castles, basketball and tennis courts, playgrounds and fitness equipment.
Shops or kiosks: Small kiosks close to the entrance sell popcorn and soft drinks.
Toilets: Yes.
Nature: Palm trees line the track surrounding the lake and there are plenty of grassy areas to picnic.
Timings
Sunday to Thursday: 8:00 am – 11:00 pm
Friday to Saturday: 8:00 am – 11:30 pm
Address
Between 329th Street and 23rd Street
Al Barsha 2 – Dubai
United Arab Emirates
Email: publicpark@dm.gov.ae
Website http://www.mydestination.com/dubai/things-to-do/1151539/al-barsha-pond-park
Get more stuff like this
Subscribe to our mailing list and get interesting stuff and updates to your email inbox when we start newsletter service.
Thank you for subscribing.
Something went wrong.