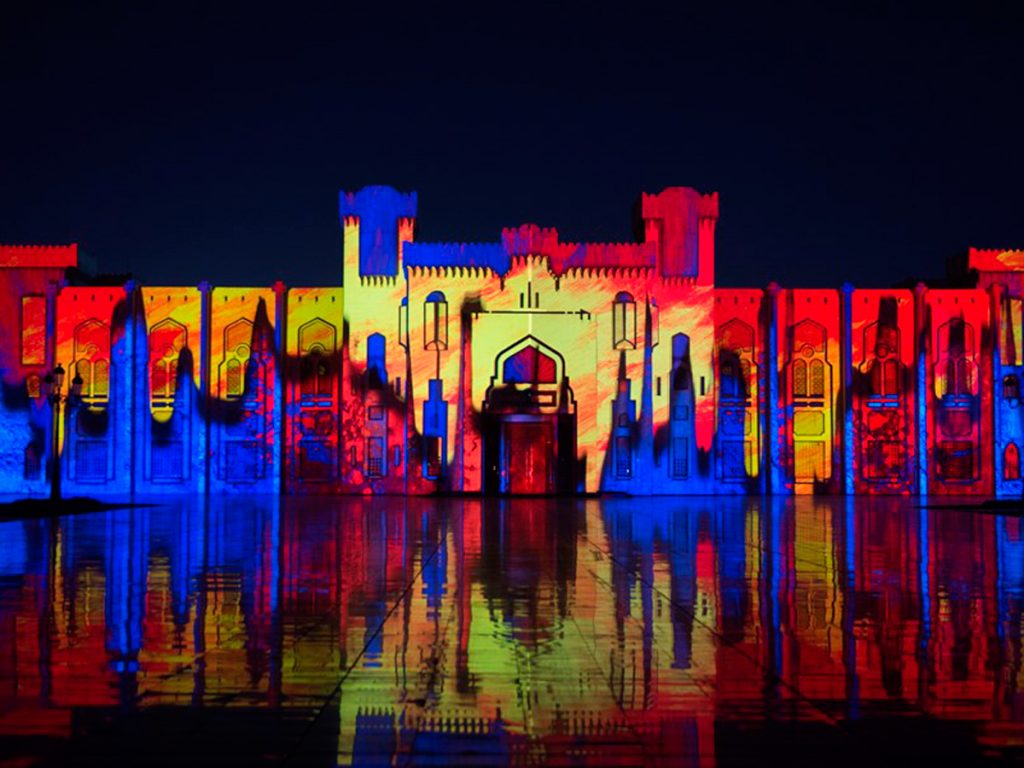 The Sharjah Light Festival – There's a dazzling projection art event coming to Sharjah.
Sharjah Light Festival is returning for 2022 with 11 nights of colourful projections and music. If this year is anything like previous festivals, our eyes are in for a treat.
The colourful festival is the first and only of its kind in the region and has been running for over ten years. It attracts thousands of visitors to up to 20 locations in Sharjah each year. The designs are inspired by local culture, stories and traditions.
The 2022 Sharjah Light Festival goes from Sunday February 9 to Thursday February 20 and is organised by the Sharjah Commerce and Tourism Development Authority.
Ready to see the emirate lit up in colours? The festival brings a kaleidoscope of creative lights and colour to Sharjah's architecture. Diverse locations are featured during the annual show, with light and sound spectacles that transform them. (Have your camera ready.) The festival uses energy-saving lighting technology and all the lights and projectors used have passed certification for environmental compliance.
The Sharjah Light Festival also showcases the emirate's rich heritage and historical monuments. Local and international artists, musicians and light technicians collaborate to showcase the emirate's achievements.
Sun Feb 9- Sun Feb 20.
The Sharjah Light Festival – 2022 Event in UAE Details
The Sharjah Light Festival 2022 Date:
Sun Feb 9- Sun Feb 20.
The Sharjah Light Festival 2022 Venue:
Al Majaz Waterfront, University City Hall, the Holy Qur'an Academy, the Sharjah Mosque and Al Noor Mosque, the Hamriyah Municipality, Department of Town Planning and Survey (Kalba) and the Directorate of Human Resources Kalba, Rashid bin Ahmed Al Qassimi Mosque in Dibba Al Hisn and the Rafisah Dam in Khorfakkan. Additionally, the University City area will be host to a Food Trucks Zone, situated opposite University City Hall.
This year's edition of the festival food truck area is host to over 30 outlets and expected to see the participation of a number of local businesses and families. The light shows are inspired by the traditional heritage of the Emirate of Sharjah and highlight scenes which reflect the stages of prosperity and development in the emirate in various fields, including education, arts, communication, environment, history, science and knowledge, and the ambitious future visions that are planned for the next fifty years.
The Sharjah Light Festival 2022 Timmings:
Daily light shows will run from
6pm until 11pm from Sunday to Wednesday,
and 6pm to 12 midnight on Thursday, Friday and Saturday.
Website: www.sharjahlightfestival.ae
DubaiTravelator.com for your Travel Assistance
DubaiTravelator.com have listed travel agents who offer various travel packages, Dubai visa specialist to apply for Dubai visa, visa and immigration procedures in Dubai, hotels in Dubai and special deals, things to do in Dubai, places to visit in Dubai, how to plan a five day tour to Dubai etc for your travel assistance.
We have many more categories listed for you .Please click here to check other categories in DubaiTravelator.com.
Get more stuff like this
Subscribe to our mailing list and get interesting stuff and updates to your email inbox when we start newsletter service.
Thank you for subscribing.
Something went wrong.