Tag:

Al Marmoum Camel Racetrack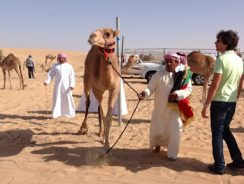 0
Camel Races Dubai 2017 - 27 and 28 January Camel racing is one of Dubai's quintessential sporting activities. Watch as some of the emirate's most prized camels take to the track. ...
READ MORE +
0
Dubai Camel Festival 2015 - as it is named is a 12 day camel racing event held at Al Marmoum Camel Racetrack, Dubai Al Ain Road with free admission to all UAE residents. The camel ...
READ MORE +
0
Al Marmoom Heritage Festival 2014-This heritage festival aims to maintain and build upon the local and traditional sport of camel racing. Through a series of races, the Al Marmoom ...
READ MORE +
0
Al marmoum camel racing season 2014-Don't miss out on this fast-paced sport as camels race off to the finish line during the Al Marmoum 2013/2014 racing season.
READ MORE +