0
Dubai World Cup 2016 - Events in Dubai, UAE Dubai World Cup 2016The region's premier equestrian event pays tribute to the Arabian love affair with horses and is also one of ...
READ MORE +
0
Meydan Racecourse will be offering an exciting array of races starting from November the 5th, 2015 all the way through to the 11th of March with Racing at Meydan.
READ MORE +
0
Dubai Tour 2016 - Events in Dubai, UAE Dubai Tour 2016In partnership with RCS Sports and the Dubai Sports Council, Dubai Tour is a professional cycle race and will take ...
READ MORE +
0
The Fazza Championships for the Disabled will kick off the new season with the Second Fazza International Para-Archery Championship Dubai 2016 that will be held at the Dubai Club ...
READ MORE +
0
The Dubai Marathon has become bigger and better each year, attracting many local and global sponsors.
READ MORE +
0
Watch best international players heading to Dubai for one of the most eagerly awaited events, the Dubai Duty Free Tennis Championships.
READ MORE +
0
The Omega Dubai Desert Classic is a PGA European Tour sanctioned event featuring a $2.5 million prize pool. It is held early every year at the Emirates Golf Club's Majlis Course, ...
READ MORE +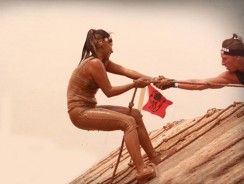 0
Be one of over two million competitors across 21 countries to test themselves against the self-titled the world's best obstacle course, period, The Spartan Race.
READ MORE +
0
The Al Ain Air Championship is back and ready to soar with sky-high fun for the whole family from December 17 – 19, 2015 in Al Ain international Airport.
READ MORE +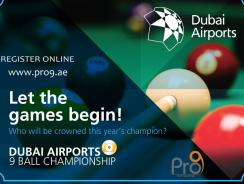 0
Pro9 is Dubai's only authorised organiser of pool and billiards championships. Pro9 is holding the 3rd edition of 9Ball championship at the third exit, Terminal 3, Dubai Airport. ...
READ MORE +
0
Organised by the Dubai Sports Council (DSC) The Residential Districts Championship (Furjan) is not only an inter-district sports championship but also an attempt to encourage ...
READ MORE +
0
The Icons Cup 2015 is a spectacular new 'all-star' team golf tournament hosting in Dubai. The Icons Cup 2015 Location, Date, Ticket, Timing, Contact Details and lots more..
READ MORE +
0
Dubai Motor Festival 2014 - The Dubai Motor Festival returns for its second year with a bang.
READ MORE +
0
FINA Swimming World Cup - The FINA Swimming World Cup is an international series that started in 1988/1989 and has been running till now. The competition, which is made up of a ...
READ MORE +