0
Arabian Nights at Ewaan in Dubai, UAE on 07 March 2018 - Events in Dubai, United Arab Emirates Arabian Nights at Ewaan in Dubai, UAE Go back in time at Ewaan, a gourmet ...
READ MORE +
0
Welcome to Kcal, an innovative food and lifestyle company, dedicated to changing the fast food industry as we know it and bringing the world optimal wellness through good, ...
READ MORE +
0
Calicut Paragon Dubai -Acclaimed as india's best restaurant for coastal cuisine(Times Now Foodie Award) and consistently ranked among Dubai's best restaurants(TimeOut Awards and ...
READ MORE +
0
Salkara Restaurant Dubai- Salkara is a unique concept-based restaurant that showcases the classic Malabar cuisine prevalent across northern Kerala in the 1970s & 80s. The choice ...
READ MORE +
0
London Fish & Chips became an instant favourite with the local population, leading to us opening a chain of outlets at every shopping mall in Riyadh, Jeddah, Madinah, Khobar and ...
READ MORE +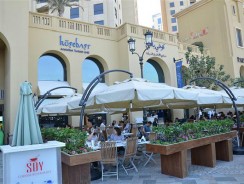 0
Kosebasi restaurant was voted as one of "World's 50 Best Restaurants" by the 14,000 members of Conde Nast Traveler magazine and was awarded with International Tourism, Hotel and ...
READ MORE +
0
Dar Zayed Restaurant serves a great variety of Breakfast, Cafe, Continental, Grills, Iranian and Sandwiches to many areas in Dubai.
READ MORE +
0
El Chico is a restaurant chain in the Southern United States. The first restaurant was opened in 1940 in Oak Lawn, in Dallas, Texas and now, they have 78 locations. The restaurant ...
READ MORE +
0
Romano's Macaroni Grill menu features items found in traditional cuisine from Italy and the Mediterranean area. Restaurants also offer patrons the option of creating their own ...
READ MORE +
0
The Pizza Company has 4 existing restaurant branches in the UAE – Al Diyafa, Al Rigga and The Walk at Jumeirah Beach Residence in Dubai and Khalidiyah Mall in Abu Dhabi and 2 ...
READ MORE +
0
Renowned as the largest Southwestern chain with over 1,500 restaurants worldwide in 32 countries, including 50 restaurants in the GCC, Chili's stands as an International Stalwart ...
READ MORE +