Tag:

Places to Visit in UAE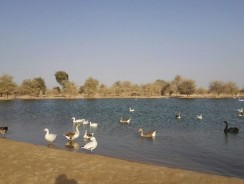 0
Dubai is proving to be attractive not only to migrant workers but to new species of birds as well. Al Qudra Lake in Dubai, UAE is a Man-made lake in the middle of the desert that ...
READ MORE +
0
Dubai Crocodile Park - Place to Visit in Dubai, UAE. In Dubai Crocodile Park, crocodiles will be grouped in order to reproduce and multiply as they would in their natural ...
READ MORE +
0
Etihad Union Museum - Place to Visit in Dubai, UAE. Etihad Union Museum is a unique and iconic museum dedicated to exhibit the holistic story of the nation's development from ...
READ MORE +
0
Sharjah Museum of Islamic Civilization - Place to Visit in Sharjah, UAE. The first Sharjah Islamic Museum opened its doors in the Heritage Area in 1996. Its extensive collections ...
READ MORE +
0
Sharjah Maritime Museum - Neighbourhood Places in Dubai Sharjah Maritime MuseumThe Sharjah Maritime Museum first opened its doors in 2003 in the Heritage Area. It was ...
READ MORE +
0
Sharjah Aquarium is the first and largest government educational center in UAE. Covering an area of 6500 m², it consists of two floors equipped with 20 aquariums, filled with 1.8 ...
READ MORE +
0
Al Badiyah Mosque, sometimes written Al Bidyah or Al Bidya. It is the oldest known mosque in the United Arab Emirates located in Al Badiyah / a small village in Dibba, northern ...
READ MORE +
0
Owned by IMG Group, IMG Worlds of Adventure is Dubai's first mega theme park promising visitors from around the world the excitement of four epic adventure zones in one location.
READ MORE +
0
The 10-million litre Dubai Aquarium Duabi Aquarium Dubai Mall, located on the Ground Level of The Dubai Mall, is the largest suspended aquarium in the world.It houses over 33,000 ...
READ MORE +
0
Contains 265 stores that sell goods in economic prices such as: ready-made cloths, textiles and clothing, furniture, perfumes, cosmetics, toys and gifts, housewares, jewelries and ...
READ MORE +
0
SkyDive Dubai holds several values dear to its heart, which were born from the vision and culture of Dubai. Among the expert coaches, instructors, pilots and management, this ...
READ MORE +