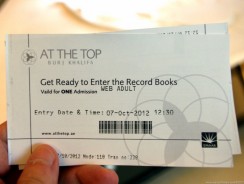 0
Burj Khalifa Ticket Price, opening hours and things to do At-The-Top-Burj-Khalifa-tickets-Dubai-UAE The Burj Khalifa, known as the Burj Dubai before its inauguration, is a ...
READ MORE +
0
Burj Khalifa light show timing Burj Khalifa light show has been extended until 31 March 2018. Don't worry if you have missed the show on 31-December -2017 evening. Now Burj ...
READ MORE +
0
Dubai Festival of Lights-The inaugural 'Dubai Festival of Lights,' will take place 20 to 29 March, 2014! Prepare to see Downtown in a different light. Well in fact, so many lights ...
READ MORE +
0
New Year 2014 Fireworks in Dubai at Burj Khalifa - Watch Video here - Spectacular fireworks that are displayed at the world's tallest building. The fireworks are choreographed ...
READ MORE +
0
Burj Khalifa Fact Sheet - Tallest building in the world - Details about Burj Khalifa
READ MORE +
0
Burj Khalifa — The Tallest Building in the World. The Burj Khalifa skyscraper is a world-class destination and the magnificent centerpiece of Downtown Dubai, Dubai's new urban ...
READ MORE +