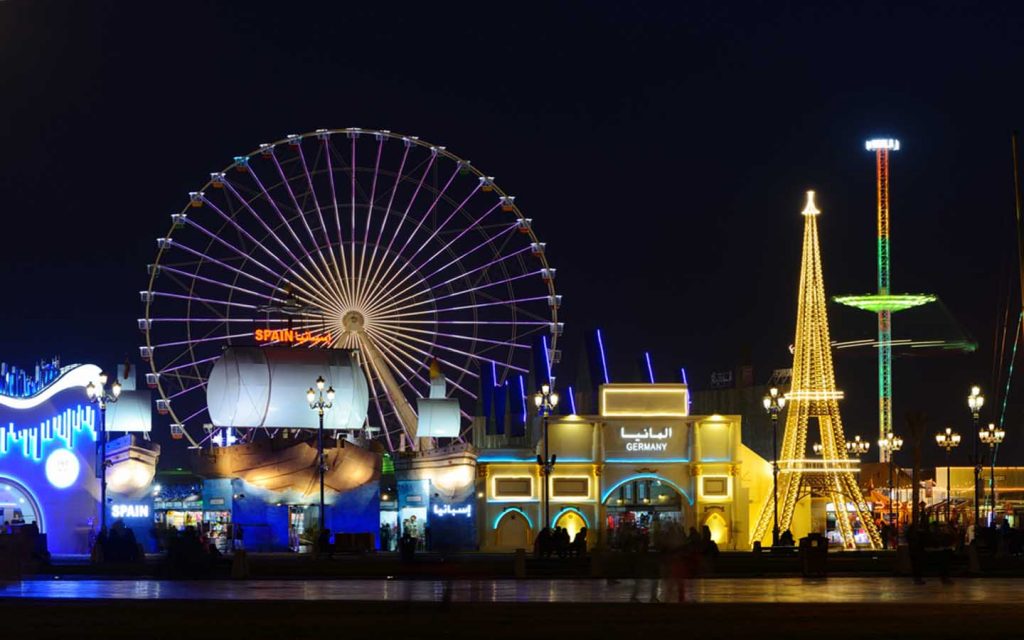 Global Village 2021 – 2022 Dates
Update: Global Village is keeping the park open until Saturday May 7 2022. The news was announced by Global Village on Twitter
Global Village 2021 – 2022 – New wonder from around the world…
people from all over the globe meet at Global Village to share their cultures
Global Village reopening 2021 – 2022 Dates, begin on 26 October 2021 and will run until 10 April 2022. This year, Global Village celebrates its 26th season with a good deal of silver anniversary celebrations. It is a seasonal shopping, entertainment & cultural event held in Dubai, over 3,500 shopping outlets of 78+ countries spread across more than 25 country pavilions, located on Sheikh Mohammed Bin Zayed Road, incorporates international markets, unique food and live entertainment shows.
Global village is a visual treat for the visitors to explore international attractions. Visitors can enjoy authentic cuisines from over 20+ restaurants and cafes, the festival park over 20,000 entertainment & cultural shows, 60+ thrilling rides and skill games for families' children at carnival area and concerts by international artists.
Global Village reopening 2021 – 2022 Dates Details:
What are the main Attractions of Global Village Dubai 2021 – 2022?
Amazing stage shows
Live Concerts and Shows
Kids Theatre Shows
Street Entertainment
Stunt Shows
Food Trolleys
Cafes
World wide Pavilions
Thrilling Rides
Marvelous Shopping spots
Where is the venue of Global Village Dubai 2021 – 2022?
Global village
Exit 37, Sheikh Mohammed Bin Zayed Road and – Emirates Rd
Dubai
United Arab Emirates
What is the date and duration of Global Village Dubai 2021 – 2022?
26 October 2021 – 10 April 2022
What are the timings of Global Village Dubai 2021 – 2022?
Weekdays: Sat –Wed : 4:00 pm – 12:00 am (last entry at 11:30 pm)
Weekends & Public Holidays: Thu – Fri : 4:00 pm – 1:00 am(last entry at 12:30 am)
Note: Every Monday is dedicated to Families and Ladies only(excluding when a Public Holiday fall on a Monday)
Where is the Global Village entrance gates?
Gate of the World
Cultural Gate
What are the ticket rates of Global Village Dubai 2021 – 2022?
AED 15 per person per day(Ticket price is inclusive of 5% VAT)
Categories eligible for Free Entry:
Free Entry for children under 3 years
Senior Citizens
People of Determination with one companion each
How to purchase Global Village entry tickets?
Direct purchase from the gate at 3:30 pm every day. The entry ticket is only an admission ticket. Food, shopping, entertainment, rides & shows held in Global Village are not included in this ticket and will be at your own cost.
What are the entertainment activities at Global Village Dubai 2021 – 2022?
Kids Theatre Shows
Stage Shows
Street Entertainments
Stunt Shows
Click here for More Show Details
The Carnaval includes:
Family Rides
Special Attractions
Thrill Rides
Click here for More Details
Which are the Major Pavilions and Shopping Items at Global Village Dubai 2021 – 2022?
Egypt Pavilion – Handcrafts, Carved copper, Antiquities, Cotton clothes, National costumes etc
Bosnia & Balkans pavilion – Authentic products, foods and glimpses
Yemen Pavilion – Decorated vintage silver, Precious stones, spices etc
Indian Pavilion – Cotton, silk, chiffon fabrics, hand-woven natural silk & fleece, jewelry, cloths & home accessories
Azerbaijan pavilion – Asal and traditional ice-cream.
AfricaPavilion – Hand carved artifacts
China Pavilion –  Women's accessories & Pearls
Pakistan Pavilion – Leather goods, cotton fabrics, traditional crafts & home accessories
What are the restrictions at Global Village Dubai 2021 – 2022?
No Pets
No Public Display of Affection
Filming in Progress
No Segways or Roller Skates
Dress Modestly
What are the facilities in Global Village Dubai 2021 – 2022?
300+ Baby strollers
Clinic
Washroom Facilities with wheel chair access
Prayer Rooms
ATMs
Lost & Found Desk
400+ Shopping Trolleys
5 Mobile Charging Units
Kiosks
10 EZ Taxi Club Cars
Lockers
VIP parking tickets
Mothers' Rooms
Money Exchange
How to contact them for more information?
Contact No: 043624114
+971 4 362 4114
Email: info@globalvillage.ae
---
DubaiTravelator.com for your Travel Assistance
DubaiTravelator.com have listed travel agents who offer various travel packages, Dubai visa specialist to apply for Dubai visa, visa and immigration procedures in Dubai, hotels in Dubai and special deals, things to do in Dubai, places to visit in Dubai, how to plan a five day tour to Dubai etc for your travel assistance.
We have many more categories listed for you .Please click here to check other categories in DubaiTravelator.com.
Get more stuff like this
Subscribe to our mailing list and get interesting stuff and updates to your email inbox when we start newsletter service.
Thank you for subscribing.
Something went wrong.